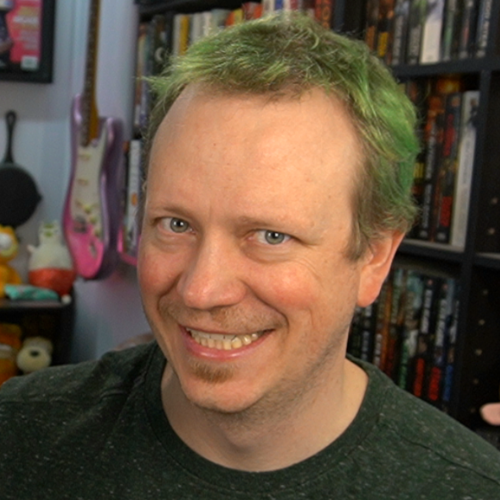 I'm not going to lie, it does feel a little silly when people in my meat-space life find out that while I do have a day job, the vast majority of my energy goes into creative endeavors. Being a YouTuber at 48 years old smacks of midlife crisis, and being a small YouTuber feels somehow even sadder.
This is probably where you'd expect me to get all noble, and say that I'm not creating content for monetary gain. I'm doing it because I want to make the world a better place. I want to share knowledge, and I want to provide skills in order to help other people do good things. A rising tide lifts all ships, and that sorta thing. And that is true, to an extent. But the thing is, I do actually hope to make an income in order to allow me to do all those noble things. The money isn't really the *reason*, but it has to be a part of the process. I wish it weren't the case, but it is. Largely because I can't work full time and also be a creator forever. I've been doing it for a year and a half now, and while it's been manageable — it's a lot.
I also want to support my family as a creator, because I need to have some flexibility when it comes to mental health. Yes, part of that means I occasionally need a "day off" for mental health (Donna and I are staying in a cabin for 2 nights later this month, which will be the first vacation we've had since 2019, and even then it was a single night out for our anniversary). But more than that, I need the flexibility to fail at human-ing from time to time.
My official diagnosis is Severe Inattentive Attention Deficit and Hyperactivity Disorder. (the double whammy of "inattentive attention deficit" seems a bit mean, but whatever) And while medicine doesn't help me very much, the knowledge of the condition has helped me navigate life with severe ADHD a lot better. But while that's the loudest part of my official diagnosis, I also have an even more insidious diagnosis of Major Depressive Disorder. It's quiet, dark, shameful (not really, but it feels that way), and it rears its ugly head during the worst possible times.
I usually just knuckle under and push through the depression. And while it both rips up my insides while also making me numb, for the most part I just accept it. Too many people are depending on me, so not showing up isn't an option. Sometimes it's bad enough that I can't hide it from those around me, and they know I'm miserable — but they also don't know how to help. Because they can't. And if you've been following me as a creator, those odd multi-week stretches of really low productivity? Yeah, I'm doing my best to hang on. My dayjob is such that I can manage to keep servers going even if I'm painfully numb, but being creative is mostly not possible. Showering is mostly not possible.
And I realize the irony of wanting to be a full time creator in order to help deal with my mental illness — when I JUST SAID that I could do my dayjob even in a depressive funk. But the thing is, it doesn't mean I'm able to heal. It just means I push it down enough to move forward. Surviving and living are different, even if the Venn diagram has significant overlap. I need to be able to flake, and still be providing value for others and security for my family. And so that's why I'm building a library of content. And why I want to continue building that library, and the community of people who care about learning; because if I'm your employee, I'm apt to let you down. But if I can share my insights, knowledge, quirks, silliness, skills, and kindness with you? Perhaps that value isn't tied to how many hours a day I work.
I do believe my work provides value. Some days I think that value is more or less than other days (depression, you see, is a crafty liar). And so I want to be a creator so that I can share all the valuable parts of me. My hope is that when I've built up enough of that value into consumable content, if I flake for a week while I stare at the ceiling, I won't feel like I'm stealing from those people who support me. I want to disconnect my value from the hours I'm present, because I'm built in an unreliable way.
Anyway. Maybe it's a midlife crisis. If it is, that means I'll live to be like… 96 years old, which would be AWESOME. But whatever it is that convinced me creation was my path from here, I'm grateful. It's scary, and uncertain — but it means I get to share the parts of me that I think others might find valuable. And every time you find value in something I've created, you punch my depression in the junk. Because it tries to tell me I'm a burden and provide negative value to those around me. And that is a lie. A lie which calls for a junk-punch.
So if you're reading this, thank you for punching my depression in the junk. He's a total douchecanoe, and deserved it.