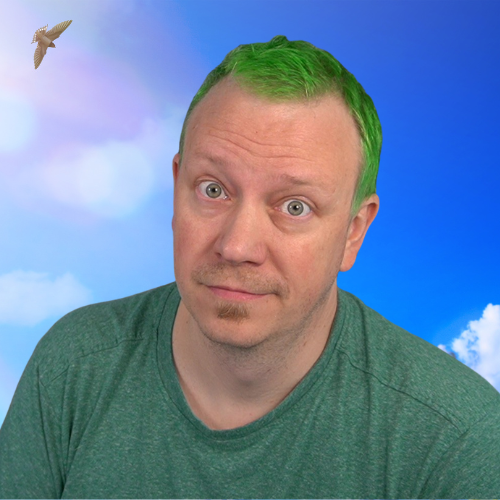 It's been a couple weeks now, and my green hair is starting to fade. My light brown roots are peeking through, and since I don't go many places, most people who will see me have seen me. And while I tweeted a short explanation, I haven't gotten too detailed when explaining why my hair is green. Mostly because I was (am) angry, and it was hard to talk about it without being mean. And that rationale is sorta the whole point.
In order to really understand my green hair, however, you need to understand me a bit. I don't really talk about my faith much publicly these days, and that's been on purpose. Largely because what "Christian" seems to mean in society these days doesn't really align with what it means to me personally. But also partially because I'm not a man of great faith. When I see Jesus talk (twice) about having faith as tiny as a mustard seed, my first thought is something like, "um, what about people with the faith of a basil seed?" (full disclosure: I haven't gardened very much, basil seeds are probably not the smallest, they're just the smallest I'm familiar with, and MUCH smaller than mustard seeds)
Shawn, Let Me Explain Matthew 17:20…
Please don't. I already know. I really do. I've taught bible class, led youth group, served on deacon/elder boards, and heck even preached Sunday sermons. I'm familiar with conventional wisdom on the metaphor, and I'm not claiming that I've discovered some new, deeper, more holy meaning. No, when I consider the notion of small faith affecting change, I'm encouraged in spite of the biblical focus. Jesus was stressing that God is so great, even the smallest sliver of infinity is still infinity. (See? Old habits die hard. Here I am preaching…)
But what if my small faith is combined with weak belief and mountains of uncertainty? Is my basil seed of faith still enough to move mountains? Maybe. And, maybe not. The thing is, I still need to live my life in a way that seems right. And let's be frank here, when I say "weak belief", I'm not just throwing out church-y phrases. Do I believe in God? Sure, usually. I guess. But pretending to have a rock solid faith for the sake of saving church ladies from "the vapors" seems a bit un-Christian. Heh.
Bro, Do You Even Christian?
Yes. Yes, I consider myself a Christian. But only because Jesus seems to be someone worth following. Whether you think Jesus was/is the creator of the universe, becoming a man to redeem the world, or just a rebellious lover of humanity — he was a really awesome guy. I want to be like him, because he cared about the outcast, taught people to think instead of blindly obeying, valued people over anything else, and got furious at the exploitation of human beings by those in power. And Jesus was kind. He must have been, or the children wouldn't have flocked around him.
So yes, while in many, many ways I do not identify with the modern, American version of "Christianity", I do consider myself Christian. Maybe not a "good" Christian. Maybe not even a good representation of "Christ-like", but inasmuch as I'm anything, I'm a person trying to be like Jesus. And most days, that's enough for me. To be clear, that's not enough for many folks, and so many will not consider me a Christian. That's OK.
But Dude, if You're Wrong [Insert Crackling Fire Sounds]
Yeah, so if you're a Christian to avoid burning in Hell, you've missed the point. Maybe Hell is a place of fire and pain, maybe it's a metaphor for separation from God. And maybe it's simply a description of the empty worthlessness a life lived for selfish gain gets a person. I honestly don't know. But I also don't need to know.
The way I strive to live my life is not predicated on a promise of future reward. I don't choose kindness so that someday I'm given an oceanfront view in heaven. Empathy is not a vehicle to riches, in this world or the next. And my motivation for helping others is not accrue favor from a higher being, but rather to, you know, help someone because they need help.
For what it's worth, this is also why I'm far less concerned about people who aren't Christians than traditional Christianity would dictate. And here is where I lose a lot of folks who were mostly ok with my particular take on living a Christ-like life. That's OK. I'm not starting my own religion, and I'm not telling anyone they should "Christian" like I do. But here's the thing, Jesus didn't seem to be a guy overly concerned about technicalities. If there is an afterlife, and some metaphorical pearly gates, it seems like a pretty low-rent heaven that would allow douchebags with the proper punch card into eternal glory, and send caring, compassionate Hindus, Muslims, Jews, Atheists, etc., into eternal torture.
Does that mean I'm trying to do some magic hand-wavy trick to turn "the way, the truth, and the life" into a moralistic litmus test for heaven? Um, no. I don't feel a need to do that. Again, my motivation for how I live my life is not a future reward. In fact I've always been suspect of folks who need that carrot in order to do the right thing. My little basil seed of faith is apparently sufficient to follow the example of Jesus, even if he doesn't want to be friends with me afterward.
Ok. You're Outta the Club
I know. No, seriously, I know. Writing this and posting it publicly will actually be sufficient cause to prevent me from holding a role as teacher or leader in a church. It will be a rationale for people who have been uncomfortable with my brand of living life to finally put me in the "other" camp. It might sever friendships, and it will disappoint people who thought I was someone else.
But that's OK too.
I am a Christian, because I think Christ is someone worth following. I think the modern Christian Church resembles the Pharisees in the bible far more than it represents Jesus and his gang. And I can't pretend to be something I'm not in order to fit in. That really doesn't seem like the sort of thing Jesus did either. My faith might be tiny, but my resolve is not.
That Was a Lot. But, Why is Your Hair Green?
Heh. You still want to know? Cool. It's difficult to explain without painting some folks in an unflattering light, but my hair is green because my daughter was treated poorly for dyeing her own hair. She was a volunteer assistant coach at the Christian school from which she graduated. Partway through the season, when she dyed her hair bright red, she was told she could no longer represent the school in public. There was a new rule, which she hadn't been told about, that volunteers were not allowed to have unnaturally colored hair.
The rub, however, is that she was still allowed to help in practice, just not sit on the bench during games, or get announced as a coach during the pre-game. Her "look" was appropriate enough to exploit for free labor, but not "good enough" for the public to associate with the school in an official role. And she was gutted. So I dyed my hair in solidarity.
So What Now?
I dunno, coffee? I mean, it's not like I've suddenly changed who I am, and my life is on a different trajectory. If I haven't been living my life loud enough that people are shocked to learn I was a heathen all along, well, maybe things change for them. As for me, I'll continue to live life the best way I know how. When presented with new information, I'll change my views accordingly. If given a choice between kindness and and cruelty, I'll strive for the former, while rallying against the latter. And with all my shortcomings, failings, poor choices, and inevitable mistakes: I'll try to leave this world a little better than I found it. Regardless of where my next stop might be.